Brand crystals in comparison
They are ironed, sewn on, glued on or framed. Crystal stones, or simply called "rhinestones", have become indispensable in the fashion world.
In addition to traditional crystal and glass manufacturers such as Swarovski and Preciosa, the market also offers more and more cheaper alternatives.
Are the "No Name" products compatible with the quality and environmental awareness of the major manufacturers?
Let's compare two crystal stone variants of the brands Swarovski, Preciosa and Dongzhou with each other – first one is a Baguette Sew-on Stone and the other a Rivoli Fancy Stone.
Environment & Fairness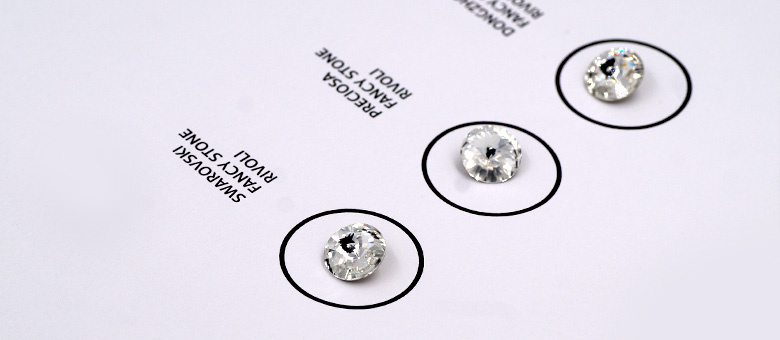 Good news first: it is not only the major European suppliers who are attaching increasing importance to environmental protection and fair working conditions in the manufacture of their products. Foreign manufacturers are also following suit. Thus Dongzhou Crystal is not only the leading company for crystal products in Asia, it also guarantees a safe working environment in production and environmentally friendly working methods.
The vast majority of products are already manufactured according to the international guidelines "Lead & Cadmium free".
Swarovski is the leading manufacturer of precision-cut crystals that are used in the fashion and jewelry industries as well as in the world of lighting design, architecture, and interiors. Crystals from Swarovski have become an indispensable material for the creations of international designers.
Preciosa is also a leading international glass manufacturer. For decades it have brought, and continue to bring, new blood to the art of glassmaking through creative ideas, colour and our brilliant glass and crystal components. People in over 140 countries worldwide admire our craft.
Dongzhou Crystal

The Chinese manufacturer Dongzhou is currently conquering the world market, albeit not yet too well known in this country. The product variety is similarly large, as that of the world-wide acting competitors. The standard range contains the most popular shapes, sizes and colours.
Production & Quality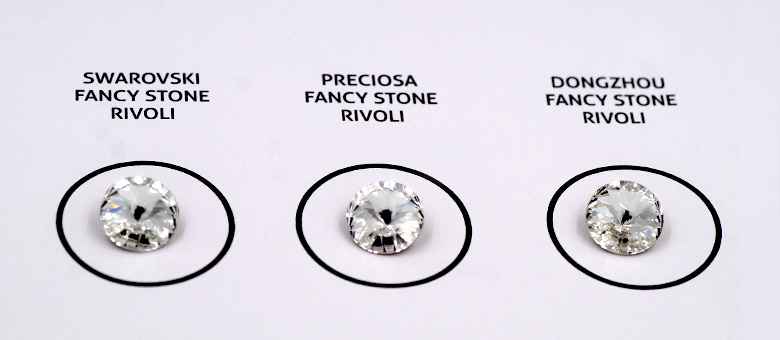 While many low-cost products are unbeatable in price, their workmanship and quality leaves a lot to be desired. Visible scratches, foreign inclusions and a lack of brilliance are more the rule than an exception.
Different with Dongzhou Crystal: The high quality rhinestone products – Made in China – can certainly compete with the high-end products of European rhinestone manufacturers.
A permanently good quality is ensured similar to Swarovski and Preciosa by high-quality raw materials, state-of-the-art grinding and polishing techniques and strict quality control. The special multi-layer vacuum coating is extremely resistant and ensures a long-time brilliance on the silver coating.
In the end result, product differences (see product images) between the three suppliers can only be identified by an expert on a few minor characteristics only.
Get crystal items of Swarovski, Preciosa or Dongzhou (coming soon) in our online store. Browse online through our colourful variety of new products and classics. Order a product of your choice, we will deliver your favourite item to your office or directly to your home free of charge from an order value of 50 euros or more. If you need more information or processing tips, our Service-Team will be at your side.
Our tip: It is now even easier to find your product favorites with the help of the product filter. Combine according to colours, shapes and processing techniques and receive your personal item selection quickly and easily.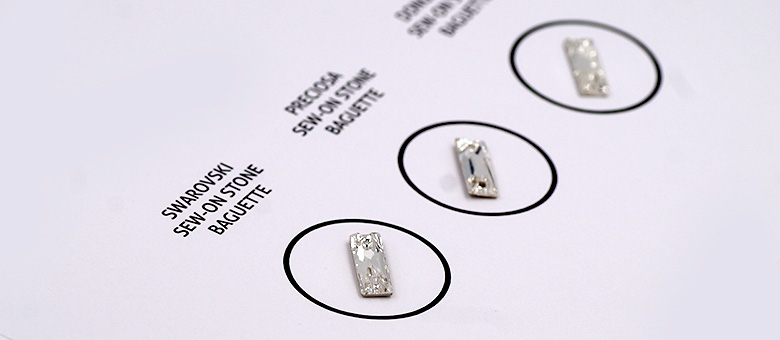 Copyright product images and product texts: © Görlach GmbH